Assalamualaikum. Salam sejahtera. Salam Melaka Maju Negeriku Sayang. Negeri Bandar Teknologi Hijau. Melaka 755 tahun. Melaka Maju Fasa ke II.
WARNING !

Full With Spoiler
TITLE :
One Smile Is Very Alluring (Love O2O)
STARRING :
Angela Baby, Jing Boran
PLOT
Bei Wei Wei (
Angela Baby
) seorang pelajar universiti jurusan seni yang sangat suka bermain game online "Mengyou Jianghu" dengan menggunakan nama 'Luwei Weiwei'. Weiwei merupakan salah seorang pemain yang ke-7 di dalam ranking game tersebut.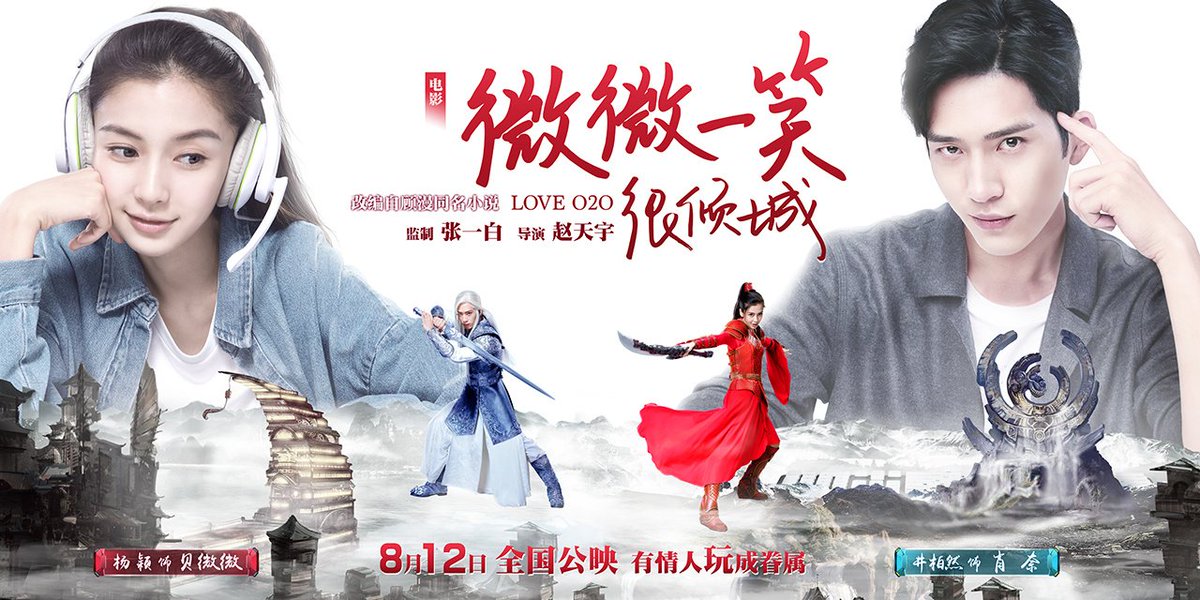 Xiao Nai (
Jing Boran
) seorang pelajar universiti jurusan computer yang sangat expert juga dalam permainan Mengyou Jianghu dengan menggunakan nama 'Yixiao Naihe'. Naihe merupakan pemain yang pertama dan juga merupakan senior kepada Weiwei.
Naihe melamar Weiwei di dalam game tersebut. Sejak itu, Weiwei sering mengelamun kerana jatuh cinta terhadap Naihe. Weiwei juga tidak tahu bahawa Naihe merupakan senior yang dia dah lama crush kerana kepintarannya dalam akademik.
REVIEW
Sebenarnya movie ini merupakan remake from drama Love O2O lakonan Yang Yang dan Zeng Shuang. bagi aku, movie ni best sebab setiap saat dan minit korang akan suka. tak payah skip. pelakon pun handsome dan cantik. konfem korang takkan bosan.
Aku tak pernah tengok Angela Baby berlakon. dia memang lawa walaupun dah ada anak satu. dalam movie ni dia memang attracted sebab perwatakan dia yang comel dan lawa sangat menarik perhatian. aku ship dia dengan Naihe dalam movie ni. dorang nampak sesuai bersama.
Jing Boran memang handsome! another chinese actor yang jarang dengar tapi dalam movie ni dia memang karisma habis. sumpah korang akan cair. setiap masa ada scene dia, aku cair haha lol. much love Naihe 💖💖
Movie ni best! tak tahu nak gambarkan cemana tapi aku boleh jamin yang korang konfem takkan menyesal tengok movie ni. memang bergula je setiap saat. sampai sekarang movie ni yang paling fav. kalau korang jenis seorang gamer, this will be a rec movie untuk korang. sumpah aku tak tipu hehe.
them 💕. sampai sekarang aku belum move on dengan movie ni sebab best sangat ! ala takmo cakap banyak. korang pergi tengok je ok? memang 100% romance. lepas tengok movie ni, konfem korang akan senyum sampai ke telinga tau teringatkan betapa sweetnya budak berdua ni hehe. kalau malas nak tengok drama, tengok movie ni. boleh jimat masa korang...
banyak nak share gambar! tapi tak banyak gambar yang ada sebab drama je yang banyak. but sokay, korang boleh tengok kat
SINI
RATING
⭐⭐⭐⭐⭐⭐⭐⭐⭐⭐
💙nak bagi seberapa banyak yang boleh sebab best sangat 💙